FL3X Interface-PXIe
Automotive bus interface
Artikelnummer: 3-V0942A01
The FL3X Interface-PCIe/PXIe is the middle class solution of the FL3X Interface Family in the PCIe form factor for usage in a Logger or Measurement PC. It can be used as a full functional Interface with writing and reading ability with our Driver for Linux, Windows or Xenomai.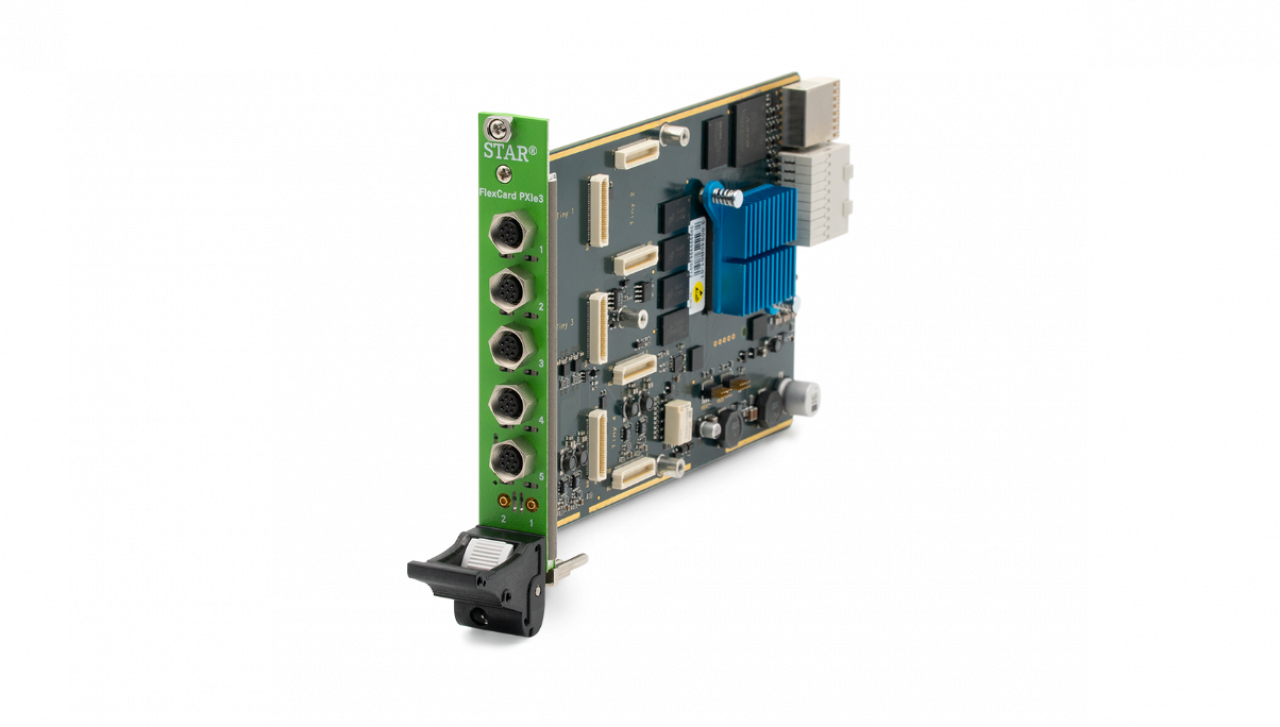 Product information
With the FL3X Interface family a highly variable automotive bus interface solution for Dataloggers and PCs, which supports the current and upcoming bus and network systems via pluggable physical layer modules and the usage of a FPGA.
The FL3X interface-PCIe/PXIe has one FPGA for the hosting of bussystems and five FL3X Tiny3 slots for pluggable transceivers which can provide FlexRay, CAN-HS/FD/SIC, LIN/SENT, 10 BASE-T1S, 100BASE-TX and 100/1000BASE-T1 channels. Because of its free mountable slots and the FPGA, it can be extended with any available or upcoming FL3X Tiny3 and communication channel.
• PXIe interface
• FL3X Tiny3 exchangeable Physical Layer slots
• 5x M9 connector
• 3,3 V DC, 5 V DC and 12 V DC compatible PXI power supply
• 3,3 V and 12 V DC compatible PCI power supply
• LEDs signal the state of the network
ETHERNET
• Resolution of timestamp 1µs and 1ns possible (32/64bit)
• Access to the data packets by FL3X Interface API
• External synchronization by PTP
CAN-HS / CAN-FD
• Silent mode useable for listening without bus interference
• Configurable TX-acknowledges
FLEXRAY
• Asynchronous monitoring mode allows listening without FlexRay-Synchronicity
• Configurable TX-acknowledges
• Chronological correlation of bus messages with one timestamp base
• Extensive filter configuration available
Five pluggable transceiver modules (2-6 channels per module depending on the bus system)

Pluggable transceiver modules available for CAN-HS, CAN-FD, CAN-FD SIC, FlexRay, 100BASE-TX, 10BASE-T1S, 100BASE-T1, 1000BASE-T1, LIN, SENT*, K-Line*, RS232*, SPI*

Compact form factor

Synchronous timestamp generation for most of the bus interfaces(

resolution up to 1 µs and 1ns)

Configurable bus termination

Bosch E-Ray IP core FlexRay controller

Bosch D_CAN IP core CAN controller

Bosch M_CAN IP core CAN-FD Controller

Intel Triple-Speed-Ethernet Ethernet controller

V2.1 A FlexRay protocol specification

V2.0 A/B CAN protocol specification

ISO 11898-1:2015 CAN protocol specification

Bosch CAN-FD specification 1.0

* API possible but not available at the moment
Technical Details
PXIe form factor

Integrated Altera Cyclone V SOC (ARM Cortex-A9 Dual Core CPU)

5 bus connectors that can be allocated flexible via pluggable transceivers 
- 2-6 bus interfaces are available on each bus connector

Up to 3 FlexRay controllers (4 Bosch E-Ray Cores)*

Up to 6 FlexRay channels (3 channel A and 3 channel B) available on the bus connectors*

In any case, 2 FlexRay cores can be connected internally (SelfSync)

Up to 6 CAN-HS bus interfaces*

Up to 6 CAN-FD bus interfaces*

1 100BASE-T1 bus interfaces
* several bus combinations are possible, please contact us regarding your desired bus configuration.
Downloads
Trainings
FL3X Training SOME/IP & Ethernet
Machen Sie Ihre Kommunikation zukunftssicher! In unserer neuen Schulung SOME/IP & Ethernet vermitteln wir Ihnen das nötige Fachwissen. Die gezeigten Unterlagen erhalten Sie im Anschluss in Englisch. Bestimmen Sie außerdem, wo Ihre individuelle Schulung stattfindet: am STAR®-Standort Göppingen, bei Ihnen vor Ort oder online. 
FL3X Training FL3X Config
Die Software FL3X Config bietet Lösungen selbst für die komplexesten Herausforderungen in der Vernetzungstechnik. Egal welche Aufgabe sich Ihnen stellt, ob Restbussimulation, Rapid Prototyping, Gateway oder Signalmanipulation – FL3X Config biete hierfür die passende Lösung. FL3X Config ist intuitiv und lässt sich an Ihren Anwendungsfall anpassen.