FL3X Interface-PCIe
Schnittstellenkarte
Artikelnummer: 3-V0952A01
Das FL3X Interface-PCIe ist die Mittelklasselösung des FL3X Schnittstellenfamilie im PCIe-Formfaktor. Ideal für den Einsatz in einem Logger oder in einem Mess-PC.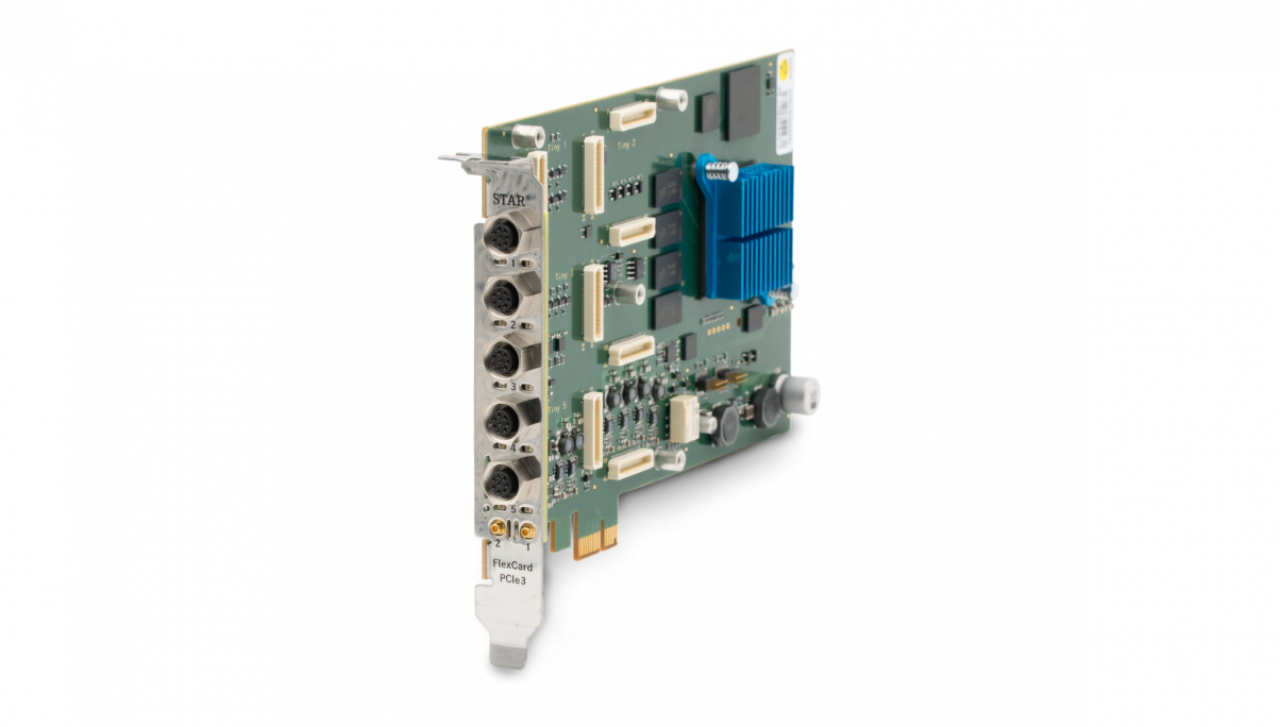 Product information
With the FL3X Interface family a highly variable automotive bus interface solution for Dataloggers and PCs, which supports the current and upcoming bus and network systems via pluggable physical layer modules and the usage of a FPGA.
The FL3X interface-PCIe/PXIe has one FPGA for the hosting of bussystems and five FL3X Tiny3 slots for pluggable transceivers which can provide FlexRay, CAN-HS/FD/SIC, LIN/SENT, 10 BASE-T1S, 100BASE-TX and 100/1000BASE-T1 channels. Because of its free mountable slots and the FPGA, it can be extended with any available or upcoming FL3X Tiny3 and communication channel.
• PXIe interface
• FL3X Tiny3 exchangeable Physical Layer slots
• 5x M9 connector
• 3,3 V DC, 5 V DC and 12 V DC compatible PXI power supply
• 3,3 V and 12 V DC compatible PCI power supply
• LEDs signal the state of the network
ETHERNET
• Resolution of timestamp 1µs and 1ns possible (32/64bit)
• Access to the data packets by FL3X Interface API
• External synchronization by PTP
CAN-HS / CAN-FD
• Silent mode useable for listening without bus interference
• Configurable TX-acknowledges
FLEXRAY
• Asynchronous monitoring mode allows listening without FlexRay-Synchronicity
• Configurable TX-acknowledges
• Chronological correlation of bus messages with one timestamp base
• Extensive filter configuration available
Five pluggable transceiver modules (2-6 channels per module depending on the bus system)

Pluggable transceiver modules available for CAN-HS, CAN-FD, CAN-FD SIC, FlexRay, 100BASE-TX, 10BASE-T1S, 100BASE-T1, 1000BASE-T1, LIN, SENT*, K-Line*, RS232*, SPI*

Compact form factor

Synchronous timestamp generation for most of the bus interfaces(

resolution up to 1 µs and 1ns)

Configurable bus termination

Bosch E-Ray IP core FlexRay controller

Bosch D_CAN IP core CAN controller

Bosch M_CAN IP core CAN-FD Controller

Intel Triple-Speed-Ethernet Ethernet controller

V2.1 A FlexRay protocol specification

V2.0 A/B CAN protocol specification

ISO 11898-1:2015 CAN protocol specification

Bosch CAN-FD specification 1.0

* API possible but not available at the moment
Technical Details
PCIe Gen 1

Integrated Altera Cyclone V SOC (ARM Cortex-A9 Dual Core CPU)

5 bus connectors that can be allocated flexible via pluggable transceivers 
- 2-6 bus interfaces are available on each bus connector

Up to 3 FlexRay controllers (4 Bosch E-Ray Cores)*

Up to 6 FlexRay channels (3 channel A and 3 channel B) available on the bus connectors*

In any case, 2 FlexRay cores can be connected internally (SelfSync)

Up to 6 CAN-HS bus interfaces*

Up to 6 CAN-FD bus interfaces*

1 100BASE-T1 bus interfaces

PXIe form factor

Integrated Altera Cyclone V SOC (ARM Cortex-A9 Dual Core CPU)
* several bus combinations are possible, please contact us regarding your desired bus configuration.
Downloads
Trainings